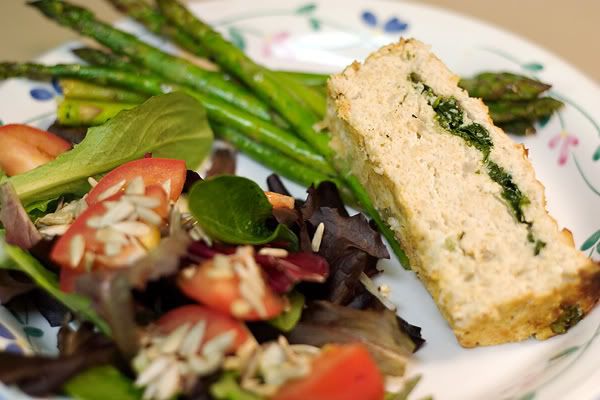 Turkey Loaf To Live By
The Eat-Clean Diet Cookbook by Tosca Reno

Ingredients:

2 Tbsp best-quality olive oil
2 purple onions or Vidalia onions
1/2 cup finely chopped celery
Sea salt and fresh ground black pepper
6 cups baby spinach leaves, washed
6 cups baby arugula leaves
1 tsp water
1 cup basil leaves
1/4 cup minced cilantro
4 egg whites + one yolk
1 Tbsp tomato paste mixed with one tablespoon water
3/4 cup low-sodium chicken or vegetable stock
2 1/2 lb ground turkey breast, no skin or fat included or use textured vegetable protein
3/4 cup oat bran (if you don't have oat bran use oatmeal that has been ground in the blender)
1/4 cup ground flax seeds
Cooking spray

Preparation:


1

Heat oven to 375°F. Make sure there is a rack in the center of the oven. Heat olive oil in nonstick pan and cook onions and celery until they are translucent but not brown. Season with salt and pepper and transfer to a small bowl to cool.


2

Add baby spinach and arugula leaves to the pan with one teaspoon of water. Cook until the greens are wilted. Remove from heat and let cool. Add basil and cilantro to the wilted greens and mix well.


3

In a large bowl add egg whites, yolk, tomato paste mixture and stock. Mix well. Add ground turkey or TVP (textured vegetable protein) oat bran and flax seed along with cooked onions and celery. Spray clean hands with cooking spray and mix the turkey concoction well.


4

In a 10" loaf pan coated with cooking spray, place half the turkey mixture. Spread evenly. Using clean hands, transfer wilted greens and herbs to loaf pan. Distribute evenly on top of the turkey mixture already in pan. Now place remaining ground turkey mixture on top of the wilted greens. Make the top smooth with your hands.


5

Bake the turkey loaf for 1 1/2 hours or until a meat thermometer registers 160°F. Remove loaf from oven and let cool for 15 minutes so everything sets properly. Once cool, remove loaf from pan and cut into one-inch-thick slices using a very sharp knife. Arrange on a serving platter and serve immediately. Refrigerate leftovers and use for lunch.



*Notes*

I ended up using a smaller amount of the spinach and arugula. I used what I had but it did not amount to 12 cups. I wanted to go a little light on the greens the first time around too, so I didn't gross out the hubby. I will add more next time. It was very tasty with the fresh herbs.
I divided the recipe between two 9 1/4 x 5 1/4 x 2 3/4 pans. We ate one loaf for dinner with enough leftover for one of us to eat at lunch today. I froze the second loaf for another night. My hubby topped his slices with ketchup. I served our Turkey Loaf with roasted asparagus spears, and a fresh salad. Yummy! We will eat this dish again!