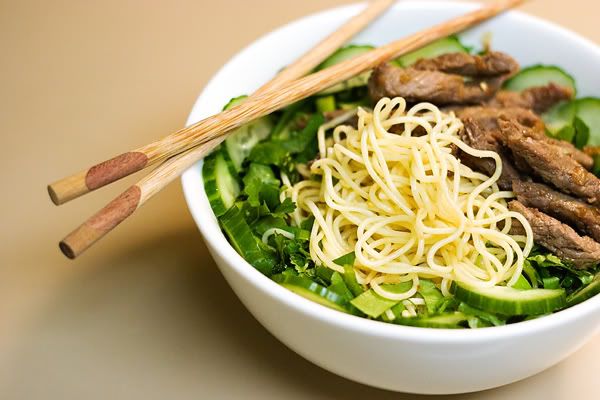 Canadian Living Magazine: May 2005
Serves 2 to 3
Beef Marinade:
8 oz (250 g) top sirloin or strip loin grilling steak (1 inch/ 2.5 cm thick)
1 tbsp (15 mL) minced shallot or green onion
1 clove garlic, minced
1 tsp (5 mL) granulated sugar
1 tsp (5 mL) fish sauce or soy sauce
Vermicelli Salad:
1/2 cup (125 mL) vegetable oil
1/2 cup (125 mL) very thinly sliced shallots
2 oz (60 g) rice vermicelli
2 cups (500 mL) shredded lettuce
2 cups (500 mL) thinly sliced English cucumber
1/4 cup (50 mL) chopped fresh coriander, mint or basil (or a combination)
1/4 cup (50 mL) chopped dry roasted peanuts
1 green onion, thinly sliced
Noodle Sauce:
1/3 cup (75 mL) fresh lime juice
2 tbsp (25 mL) fish sauce
(I just used soy sauce since I did not have fish sauce.)
1 tsp (5 mL) granulated sugar
2 cloves garlic, minced
1 tsp (5 mL) hot red pepper or jalapeño pepper, minced
Trim fat from steak. With knife held at 45-degree angle, cut steak crosswise into 6 equal pieces. Place each between plastic wrap; with meat pounder, pound each until about 6 inches (15 cm) long, 3 inches (8 cm) wide and 1/4 inch (5 mm) thick. Place in bowl. Add minced shallot, minced garlic, granulated sugar and fish sauce; toss to coat. Let stand for 30 minutes at room temperature.
Noodle Sauce:
In glass measure, whisk together lime juice, fish sauce, sugar, garlic and hot pepper. Set aside.
(
Make-ahead: Cover and refrigerate for up to 1 day.
)
Vermicelli Salad:
Meanwhile, in small skillet, heat oil over medium heat until it bubbles. Add shallots; fry until golden, about 4 minutes. With slotted spoon, remove to paper towel-lined plate. Set skillet of shallot oil aside.In bowl, cover vermicelli with boiling water and soak until tender, about 5 minutes. Drain; rinse in cold water. Return to bowl; toss with 1 tsp (5 mL) of the reserved shallot oil. Divide lettuce between two or three large bowls or plates. Top with cucumber, half of the coriander and the vermicelli; sprinkle with peanuts and fried shallots. Set aside.Thread beef onto skewers; brush with 1 tbsp (15 mL) of the reserved shallot oil. Reserve remaining shallot oil for another use. Broil beef until dark and crusty, about 8 minutes.
(I just stir fried some prepared *already cut up* beef I bought at the meat counter. Broiling sounds like it might be better though! Or even grilling on a BBQ!)
Place on top of noodles; drizzle with any pan juices. Sprinkle with green onion and remaining coriander. To eat, pour noodle sauce over vermicelli salad and toss to combine.
*
A few notes on this recipe:
*
*
The recipe calls for dry roasted peanuts, but I have always just used lightly salted cocktail peanuts.
*
The last ingredient, hot red pepper or jalapeno pepper, I just put a dash of dried crushed red pepper instead.
*
And in case you are like me as of a few months ago, and don't know what coriander is it is actually referred to as cilantro here in the states.
*
I also use regular vermicelli pasta noodles from the pasta isle. Not rice vermicelli…