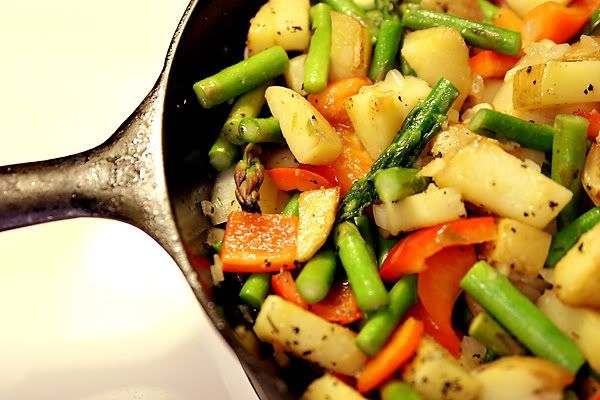 This is not my recipe...I tore it out of the February 2008 issue of Oxygen Magazine.
I made it for the first time this evening and we loved it. Very yummy and a great "one-dish-meal." I took the skillet right to the table on a hot pad.
1 tbs. olive oil
2 red potatoes
1/2 bundle asparagus
1/2 med. yellow onion
1 small red bell pepper
1 tsp. garlic powder
1/2 tsp. rosemary
1/2 tsp. basil
1/2 tsp. salt
1. Add olive oil to a frying pan, on medium heat.
2. While the oil heats up, wash and shop the potatoes into 1/2 inch cubes. Scoop them into the pan and place the lid on. Remember to flip them regularly.
3. While the potatoes are cooking, chop the asparagus, onion and red bell pepper into small 1/2 inch pieces.
4. Check to make sure that the potatoes are partially cooked before adding the other ingredients. This should take about 10 to 15 minutes from the time you put them in the pan.
5. Once you have added all the veggies to the pan, sprinkle on the garlic, rosemary, basil, and salt.
6. Let the hash browns cook for 5 to 10 minutes or until the potatoes are cooked through.
*
I added real minced garlic instead of powdered. I also used my mortal and pestle to combine the dried rosemary and Himalayan sea salt.
Very yummy dish!