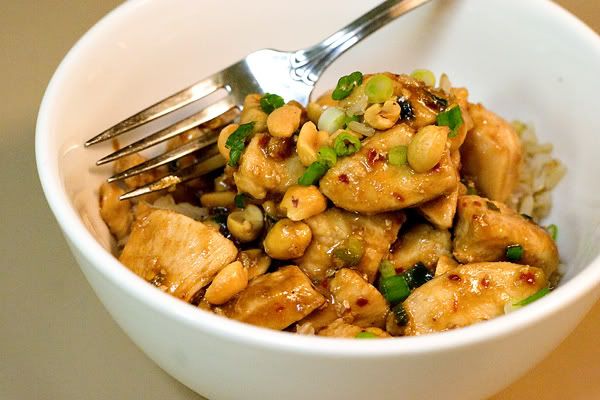 My husband always orders this dish when we eat Chinese. I was thrilled to find a "healthy" version in my newest edition of
Oxygen
magazine. This was incredibly yummy! I was sad there were only leftovers enough for my husband's lunch! :o( Next time I think I'll double it! I will take pictures the next time I make it!
Kung Pao Chicken
Makes 4 servings
Ready in 20 minutes
1 lb. chicken breast
1 tablespoon soybean or cooking oil
½ cup chopped green onion
2 teaspoons minced garlic
2 teaspoons crushed hot red pepper
1 tablespoon chopped fresh ginger (I know fresh is best, but I only had dried on hand.)
½ tablespoon cornstarch
2 tablespoons rice wine (I only had cooking sherry on hand, and it tasted fine.)
¼ cup low-sodium soy sauce (Shoyu)
2 tablespoons rice vinegar
1 teaspoon sugar
2 teaspoons sesame oil
¼ cup peanut, raw
4 cups cooked brown rice
1. Cut chicken into bite-sized pieces. Heat oil in wok or saucepan, add chicken and cook until no longer pink.
2. Remove chicken from the pan and set aside.
3. Add the onion, garlic, pepper, and ginger to the pan and stir-fry 20 seconds.
4. In a small bowl, dissolve the cornstarch in the rice wine; stir in the soy sauce, vinegar, sugar and sesame oil and add to the pan. Cook, stirring until sauce thickens.
5. Stir in chicken and peanuts and serve with the brown rice.