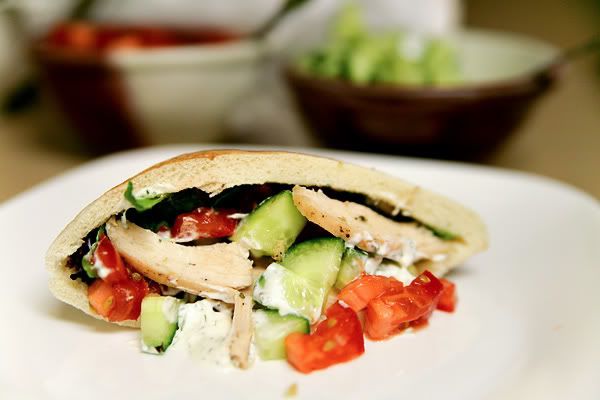 I tried a new recipe tonight and it is FOR SURE going in my "tried and true" recipe binder!
Here is the original recipe from
Cooking Light
with my modifications in red.
4 servings (serving size: 2 stuffed pita halves)
* 1/2 cup (2 ounces) crumbled feta cheese
(I used tomato basil crumbled feta)
* 1/2 cup plain Greek-style yogurt
(My favorite brand is

Greek Gods

)
* 1 tablespoon chopped fresh dill
* I added the juice of half a lemon to the dressing as well...gave it a nice zing!
* 1 tablespoon extra virgin olive oil, divided
* 1 1/4 teaspoons bottled minced garlic, divided
(I used fresh, minced garlic)
* 1/2 teaspoon dried oregano
* 2 cups sliced roasted skinless, boneless chicken breast
(I grilled boneless skinless chicken breasts on the BBQ, seasoned with coarse salt and freshly cracked black pepper.)
* 4 (6-inch) pitas, cut in half
(There is a place in town that sells FRESH baked pita bread, SO yummy!)
* 1 cup shredded iceberg lettuce
(I used a nice spring lettuce mix you can buy pre-washed and packaged at the grocery store.)
* 1/2 cup chopped peeled cucumber
* 1/2 cup chopped plum tomato
* 1/4 cup thinly sliced red onion
(I omitted this as onions do not sit well with me in this pregnancy!)
Combine feta cheese, yogurt, dill, 1 teaspoon oil, and 1/4 teaspoon garlic in a small bowl, stirring well.
(This is where you would add the juice of half a lemon, if you were so inclined.)
Heat remaining 2 teaspoons olive oil in a large skillet over medium-high heat. Add remaining 1 teaspoon garlic and oregano to pan, and sauté for 20 seconds. Add chicken
(Again, I grilled the chicken on the BBQ, sliced it thin, and then added it to the oil, garlic, and oregano)
, and cook for 2 minutes or until thoroughly heated. Place 1/4 cup chicken mixture in each pita half, and top with 2 tablespoons yogurt mixture, 2 tablespoons shredded lettuce, 1 tablespoon cucumber, and 1 tablespoon tomato. Divide onion evenly among pitas.
This was
absolutely
tasty! I will be making it a lot this summer!