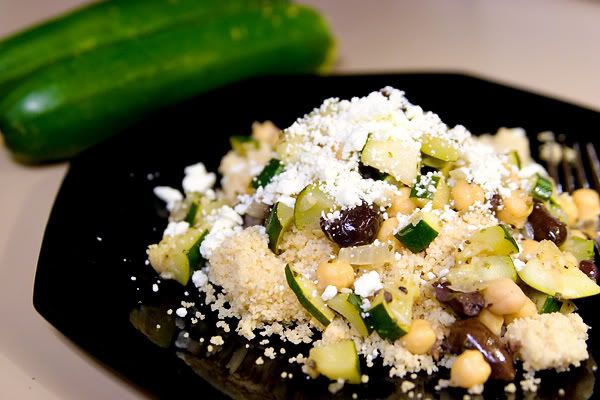 My dear friend Kim prepared this one day when we were visiting, and I LOVED it! It is really simple to prepare and so good for you!
Zucchini Ankara
2 cups chopped onion
3 to 4 cloves garlic, minced or pressed
3 zucchini or yellow squash, cut into half-moons about 1/2 inch thick
1 tsp dried marjoram
1 cup cooked, drained, garbanzo beans
1/2 cup sliced pitted black olives, preferably salty Greek ones
1 Tbsp. ground cumin
juice of a lemon
salt
black pepper
5 ounces feta cheese
Sauté the onion and garlic in olive oil until onion is translucent.
Add the squash and marjoram and cook on medium heat, stirring often,
until the squash is just tender. If the squash hasn't released enough
liquid to simmer in, add 1/4 cup of water. This should be a juicy
dish. Add the beans, cumin or mint, lemon, and seasonings.
Remember that if the feta that will be added later is quite salty, little
or no salt will be needed in the vegetables themselves. Continue
cooking until everything is thoroughly heated. The squash should
not become overly soft.
Adjust lemon and herbs to taste, and ladle the vegetables over rice
or couscous. Top with grated feta and serve immediately.
We'll try
*THIS*
variation next time.