Getting back in the saddle... :)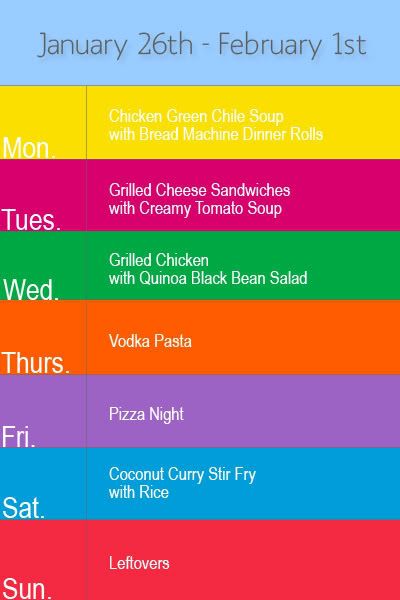 Being inspired by Bonnie and how well she has stuck to her food budget lately, I challenged myself to only buy what we really needed at the grocery store this week! I searched my pantry and freezer and came up with the following menu. I haven't shopped yet, but will report if I was able to stay within my budget! :)
*********************************************************************************
The Chicken Green Chile Soup is from my Mom and is a favorite on my side of the family, it is most often served with the rolls mentioned too. I'll have to share those recipes soon. I made a big pot a week ago and threw the leftovers in the freezer. It held up well and tasted great!
Tuesdays are always rushed so Grilled Cheese does the job. I'm also going to try an interesting Creamy Tomato Soup recipe that I got out of the latest issue of Food Network Magazine. It's made with a jar of tomato pasta sauce, fresh herbs, and cream. We'll see how it is.
The Grilled Chicken with Quinoa Black Bean Salad can be found *HERE*
Vodka Past is from the freezer too...recipe found *HERE*
The Coconut Curry Stir Fry is from this blog...will let you know how it is! It sounds really yummy!